Accelerometers and Forces
Accelerometers work by detecting forces. We look at the force acting on a small mass, divide it by the object's mass, and calculate the force per unit mass. The ratio, which ends up in units of N/kg, is the same regardless of the amount of mass. These units are conveniently equivalent to acceleration units (m/s2), and thus the sensor can be used to make direct measurements of acceleration for objects that are moving linearly.

At the amusement park the predominant use of accelerometers is to indicate sizes and directions of forces experienced by riders. The origins of those forces, combinations of gravity and the actions of the rides, leads to forces that vary in size and direction throughout a ride experience. The electronic accelerometer is well suited for recording these forces. Traditional hand-carried accelerometers work in the same manner.

Visualize the accelerometer having a small mass unit that is held in place with a spring element. This is shown in the diagram below.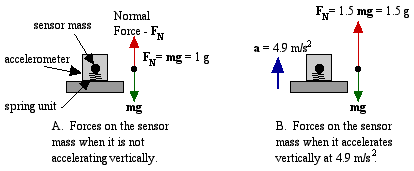 When the sensor is not accelerating in a vertical direction (A), the spring element must exert a force upward equal to the weight of the mass, mg. A voltage is sent to the interface that we interpret as either 9.8 N/kg or 1 g. But if the sensor is accelerated upwards at 4.9 m/s2 (B), half the normal free-fall acceleration of gravity, the spring element must exert a larger force to accelerate the mass unit. The new force is 1.5 mg, or we could say that it is 14.7 N/kg or 1.5 g's. In this way, the sensor is constantly monitoring the upward force exerted on the mass unit, and by extension, the upward force exerted on us.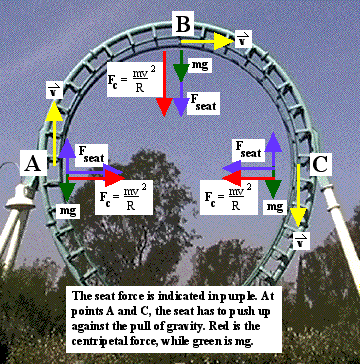 As this discussion shows, the combination of gravity and the ride forces is complex. This is one of the fascinating aspects of amusement parks - trying to unravel the complexity presented by the twists and turns of the rides.
March 2004