RailBlazer - New Ride at California's Great America
During 2018, RailBlazer will join it's roller coaster cousins Flight Deck, Demon, Patriot, Grizzly, Gold Striker, Logger's Run, and Psycho Mouse at California's Great America. This description was given by Jim Harrington in the San Jose Mercury-News in August of 2017: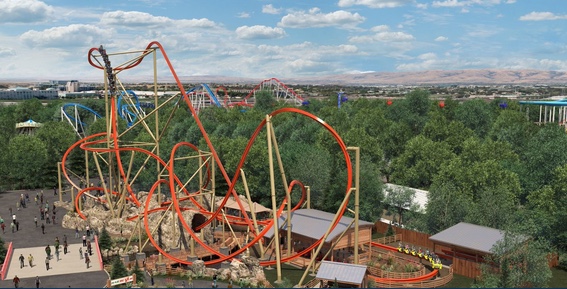 It's called RailBlazer – and amusement park fans have reportedly never seen anything like it before. What makes it unusual is that riders sit single-file on the coaster – with no one to the right or left – and basically straddle one rail. This allows for a greater range of quick, abrupt movements than traditional two-track coasters, which usually carry two (or more) passengers per row.
And did we mention the 90-degree drop? That should result in some screams heard around the park.
The coaster – the 15th in the park's history – is the first of its kind, a "prototype," says Great America Vice President/General Manager Raul Rehnborg. It's going to give the park "a whole 'nother" experience for its guests, he says.
The ride stands 100 feet tall and will whisk riders along 1,800 feet of track at speeds of up to 52 miles per hour. Its selling points include a 180-degree stall (watch out for your hats!) and a "zero-gravity roll." The coaster's theme is State Route 1 (SR 1), the highway that runs along most of the coast of California.

More to come....

February 2018