Battle of the Bay 2017
The almost annual Battle of the Bay (BOB) between Northern California member clubs in the Federation took place on June 25 at Hiddenbrooke Golf Club in Vallejo. Marin Country Chinese Golf Club served as hosts for this year's event, with Sacramento, Oakland, and Foon Hay also in the mix to earn bragging rights.

Battle of the Bay is a match play event where players within foursomes play simultaneous matches against one another trying to earn points for their club. A total of 48 points were awarded in this format for the 8-member teams. With this format, Foon Hay ended up with 15 1/2 points to win the competition. Sacramento and Oakland ended with 12 points each with Marin County earning the remaining 8 1/2 points.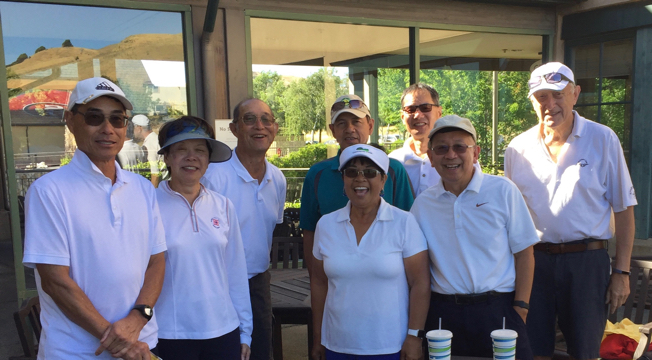 Winning Foon Hay team


Foon Hay Club President and new Federation President Sheila Lee discussed her hope to hold BOB next year. If more than four clubs wish to participate, which would be great, there will be a qualification to get down to a final four clubs. All Northern California clubs are urged to participate by sending teams of 8 to the competition.

Two final notes: The feeling during the day's round was one of good friends playing a fun round over a challenging course. New friendships were born during the day, and we all look forward to seeing one another at Federation events in the future. And as Sheila said following the round, "Seniors Rule!"