November Tournament

Foon Hay will be playing
Callippe Preserve
in Pleasanton for the November tournament. Our Tournament Chair is setting up a team game for us -
Cha, Cha, Cha
. So everyone is needed to dance their way to a high team finish. Deadline is Oct. 30.
---
October Tournament


Foon Hay will be playing
Rancho Solano Golf Course
in Fairfield on October 11. A good group of golfers is looking to tee it up this coming Wednesday. Watch this space for announcement of the results.
Results

---
Foon Hay in Portland

Five Foon Hay members and a non-playing spouse braved the heat to participate in the Federation event in Portland. Daniel Lo brought back a trophy while Sheila and Clarence won a few $$ in skins. Here's the Foon Hay group: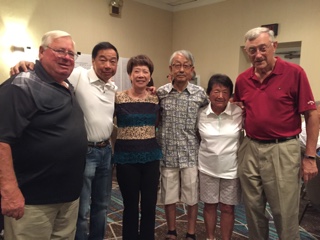 John Ciaccio, Daniel Lo, Sheila Lee, Harry Fong, Sarah Fong, Clarence Bakken
---
Federation Tournaments 2017

The Federation sponsored two tournaments during 2017. They are listed here with links. Foon Hay members are always encouraged to participate in these fun events.

---
Foon Hay is a member of the
Federation of Chinese Golf Clubs
. Our club members are eligible to participate in the various Federation tournaments that are held each year. Announcements of those tournaments will be made on this web site as well as on the Federation web site.
Foon Hay is an Associate Club with NCGA. Membership includes NCGA dues and an official GHIN handicap index.

---
OPENINGS AVAILABLE

Contact
the webmaster
if you are interested in joining Foon Hay. We'd love to have you join us in our monthly outings. The club currently has openings for new members. Click here to download a
new membership application
, print the page, then submit with your check. New members are required to play at least twice with the club to see if there's a good fit both for you and the club members.
---
Updated 10/07/17
Webmaster: Clarence Bakken