Foon Hay wins BOB


Foon Hay's team of eight players participated in the 2017 Battle of the Bay competition held at
Hiddenbrooke Golf Club
in Vallejo. Other clubs in action included Sacramento Chinese Golf Club, Oakland Chinese Golf Club and Marin County Chinese Golf Club. Marin County was the host club for this year's event.
Following a day that featured cloudiness, sun, wind, and a challenging course, Foon Hay emerged victorious with a team score of 15 1/2 points to the second place score of 12 points. A total of 48 points was awarded during this match play event, each team member competing against 3 opponents.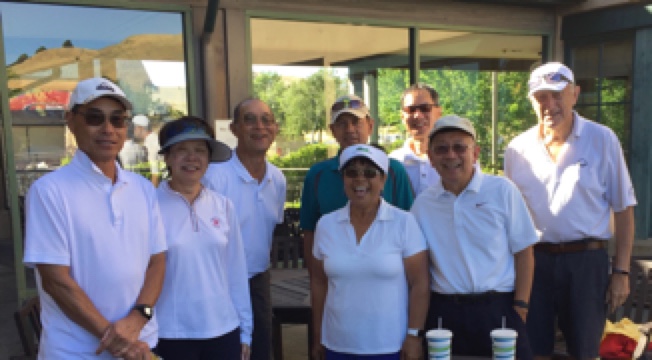 Team members: Ron Wong, Sheila Lee, Chuck Leong, Kosol Diewwanich, Fran Gin, Alfred Gong, Victor Gin and Clarence Bakken. Click on photo for enlarged image.
A perpetual trophy will soon be on its way to the team captain for display in her home. Nice going, team! Seniors rule!
---
Road Trip Photos
Foon Hay played
Pacific Grove
and
Seascape
on our recent Road Trip. The links below will get you to the results from each day, then a short page of photos. If anyone has additional photos you'd like to see online, get them to the webmaster.
Both days were beautiful, a pleasant change from the heat on the other side of the mountains. Two great days with a wonderful contingent of Foon Hay golfers!
---
Tournament News Bits

Congratulations to
John Ciaccio
who competed in the NCGA Seniors Net Championship. After qualifying, he played two rounds at Poppy Hills, finishing 12th out of the 32 finalists. Nice going in spite of carpel tunnel that hampered his game a bit.
Three Foon Hay members played in the
Federation tournament
in Reno in mid-May. All brought home some glory:
Daniel Lo was 2nd place in B flight and won a skin
Sheila Lee was 2nd place in Ladies flight
Clarence was low gross in the Senior flight, won a Closest to the Pin, and won a skin

Next Federation tournament is over Labor Day weekend in Portland. Consider joining us for a fun weekend in the Pacific Northwest!
See the item above for Foon Hay's results in the Battle of the Bay.
---
Federation Tournaments 2017

The Federation will sponsor two tournaments during 2017. They are listed here with links that will be activated once the information gets to the webmaster. Foon Hay members are encouraged to participate in these fun events.



Labor Day Weekend - Portland, OR
---
Foon Hay is a member of the
Federation of Chinese Golf Clubs
. Our club members are eligible to participate in the various Federation tournaments that are held each year. Announcements of those tournaments will be made on this web site as well as on the Federation web site.
Foon Hay is an Associate Club with NCGA. Membership includes NCGA dues and an official GHIN handicap index.