---
PROJECTILE MOTION LAB
---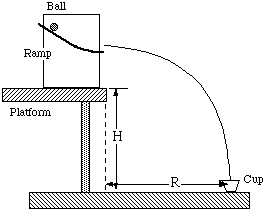 PURPOSE:
To study projectile motion under a "real" situation.
PROCEDURE:
Calibrate your ramp. Determine the velocity of the ball as it leaves the ramp when rolled from different starting points along the ramp. Use the projectile motion of the ball onto the table top for your calculations. You should calibrate many points, at least every 2 cm or even every cm. Note the letter of your ramp.

After the ramp has been calibrated, it will be placed on a platform at an given height, H, and a cup will be placed on the floor at a given distance from the ramp, R. Your goal is to release the ball from the point your decide along the ramp so that it will gain enough speed to just hit the cup.

SCORING:
Hit on 1st try = 10 points

Hit on 2nd try = 7 points

Hit on 3rd try = 3 points
WRITTEN REPORT:
---

Submitted 8/18/97